General Announcements:
Applications are being accepted from senior scientists to serve on the JOIDES Resolution Facility Board. Scientists from all IODP partner nations and consortia may apply, and the deadline is July 23, 2021.
The Naitonal Institute of Oceanography and Applied Geophysics (OGS) in Trieste, Italy, is accepting application for an ECORD Science Coordinator. The deadline to apply is June 30.
Register for the IMPACT Workshop Series, which is aimed at envisioning broadening the impact of scientific ocean drilling in the coming decades.

The Sio7 website is currently offline while MarE3 investigates a security incident. They will notify the community when access is restored.

NSF has released a Dear Colleague Letter to request interest in proving a multi-decadal drilling vessel to support future international scientific ocean drilling.
The new IODP Code of Conduct and Anti-Harassment Policy has been approved by IODP's Program Member Offices.
The JOIDES Resolution Science Operator has updated its operations schedule for 2021 and 2022 in light of decisions by the JRFB and constraints due to COVID-19.
IODP sample requests are being accepted but completion and shipment of requests may be delayed due to COVID-19. For the current status of each IODP core repository, contact the repository curator.
Meeting Outcomes:
New Reports and Publications:
Expedition 395C will begin addressing the overall goal of exploring the relationships between deep Earth processes, ocean circulation, and climate near the Reykjanes Ridge by working on three sites with primarily crustal objectives.  
Expedition 386 aims to test and develop submarine paleoseismology by recovering the continuous upper Pleistocene to Holocene stratigraphic successions of trench-fill basins along an axis-parallel transect in the Japan Trench.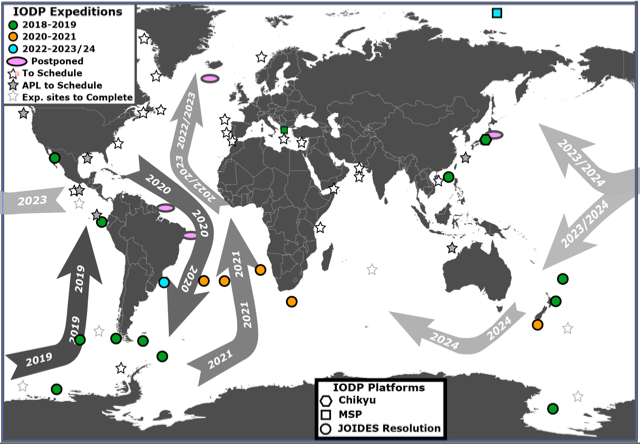 As approved by the JRFB in May 2020.
Expedition Videos