Expedition 349 - Placing whole-round cores in the core rack (photo courtesy of JRSO; CC0/PDM)

Expedition 353 - Bringing the last core of the expedition onto the catwalk (photo courtesy of JRSO; CC0/PDM)

Expedition 351 - Lowering the vibration-isolated television (VIT) system into the moonpool (photo courtesy of JRSO; CC0/PDM)

The JOIDES Resolution in port in Yokohama, Japan (photo courtesy of JRSO; CC0/PDM)

Expedition 352—Samples selected for postexpedition research (photo courtesy of JRSO; CC0/PDM)

Examining rock samples at the IODP Bremen Core Repository, Germany (photo by V. Diekamp/MARUM, CC BY-NC-ND)

D/V Chikyu (photo courtesy of JAMSTEC; CC BY-NC 4.0)

Exp 357 offshore science party (photo by Y. Morono, CC/BY-SA)

Deploying the MARUM seabed drill system MeBo70 for Exp 357 (photo by D. Smith/ECORD, CC/BY-SA)
Attend Core School in Japan: Applications are open through February 14 for the Basic Core Analysis Course to be held March 12-15 at the Kochi Core Center.  
2020 Forum venue finalized: The next meeting of the IODP Forum will be held September 22-24 at Lamont-Doherty Earth Observatory in Palisades, New York USA. 
New Policy: The IODP Code of Conduct and Anti-Harrassment Policy has been approved by IODP's Program Member Organizations and is now posted with other IODP-wide policy documents.
Job Opportunity: The IODP Science Support Office at UCSD is seeking our next Data Manager with background in Earth Science and IODP. 
Workshop postponed: The planned DriMMLOC workshop, Drilling the Mantle, Moho, and Lower Crust, has been postponed until late October.
Report: The final report of the ANZIC community's Ocean Planet Workshop for planning the future framework of scientific ocean drilling is available. 
EGU 2020: A session on Achievements and Perspectives in Scientific Ocean and Continental Drilling is welcoming submissions through January 15, 2020.
The next framework for scientific ocean drilling beyond 2023 is under development. 
A new book A Memory of Ice - the story of DSDP Leg 28 to the Antarctic margin - is downloadable from ANU Press.
Consensus items from the 2019 IODP Forum meeting in Osaka are now available. 
A new Dear Colleague Letter updates the U.S. community on NSF's plan to provide marine seismics.
NSF's Panel Review of the JR Science Operator's FY2018 operations is now available.
Consensus statements from the May 2019 JR Facility Board meeting are now available.
IODP Future: A new area of the website has been established to document the planning process towards a new science plan. 
The Call for IODP Drilling Proposals has been updated.
Latest Scientific Drilling: Download volume 25 (June 2019) here!
The Oceanography special issue "Scientific Drilling: Looking to the Future"
U.S. National Science Board renews funding for the JOIDES Resolution through September 2024.
IODP Expedition 389, Hawaiian Drowned Reefs, has been postponed.
Obituary notice: Two legendary scientists who participated in the March 1961 Project Mohole feasibility test, Gustaf Arrhenius and Walter Munk, have passed away on February 3 and February 8 respectively. 
China celebrates 50 years of scientific ocean drilling.
IODP abstracts at AGU: The term "IODP" appeared in 194 abstracts in 76 different sessions across 13 AGU sections at the 2018 Fall Meeting, from Biogeosciences to Union. Download statistics and a session list here. 
The 2018 Scientific Ocean Drilling Bibliographic Database Report is now available online.
Taira Prize announced: This year's winner of the Asahiko Taira International Scientific Ocean Drilling Research Prize is Professor Brandon Dugan of the Colorado School of Mines.
New IODP Forum Chair selected: Dick Kroon, Regius Chair of Geology at the University of Edinburgh, has been selected as the next chair of the IODP Forum. Dick will replace outgoing chair Jamie Austin effective October 1, 2018 for a three-year term.
EGU Symposium "Fifty Years of International Ocean Drilling" from April 2018 can be streamed here.
New SEP Co-Chair selected: The JOIDES Resolution Facility Board has confirmed Professor Lisa McNeill of the National Oceanography Centre Southampton, University of Southampton as the next co-chair of the Science Evaluation Panel. Lisa will replace outgoing co-chair Professor Ken Miller effective April 1, 2019 for a three-year term.  
This JOIDES Resolution expedition weill study climate and oceanographic conditions during the Cenozoic by targeting sediments deposited during the very warm late Paleocene and early Eocene in the southern Pacific Ocean.
This JOIDES Resolution expedition to the Gulf of California studied the relationship of tectonics, magmatism, sedimentation, carbon cycling, and microbial activity in an active rift basin and hydrothermal area by drilling and coring igneous sills emplaced into organic-rich sediments.
This JOIDES Resolution expedition investigated the behavior and variability of the Pacific Antarctic Circumpolar Current over the past 5 million years using high-resolution sediment records, focusing on how the coupled dynamics of the ocean, atmosphere, and cryosphere affect global climate.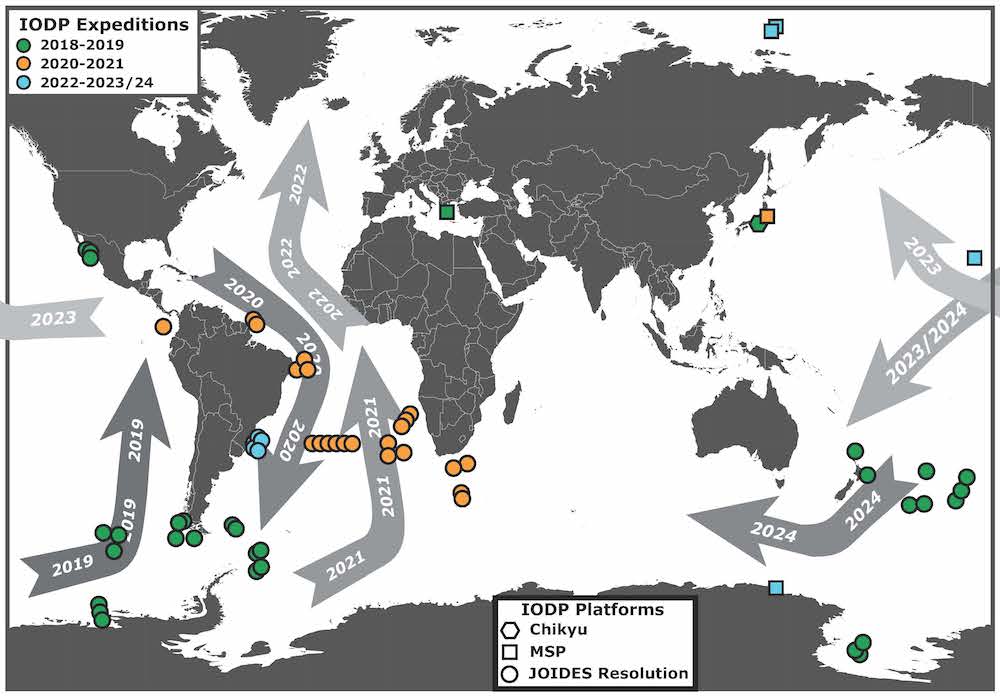 As approved by the JRFB in May 2019: "The JR is expected to operate in the Equatorial and North Atlantic, Gulf of Mexico, Mediterranean, Caribbean, and the Arctic in 2021 and 2022, and to complete its circumnavigation with a return to the eastern Pacific region by 2023, the western Pacific in 2023-2024, and potentially the Indian Ocean by the end of 2024." 
Expedition Videos